Diagnostic Medical Sonographer
---

Applicants selected for interviews will be contacted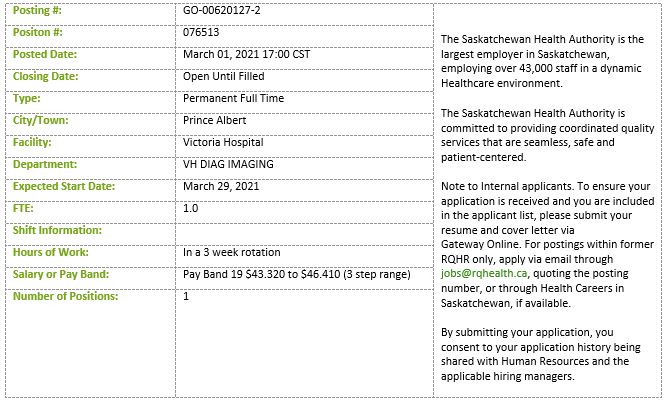 Job Summary:
Performs a variety of ultrasound techniques in order to provide images to assist with the detection and diagnosis of conditions and diseases.
Experience:
Previous: No previous experience.
Qualifications:
Required Qualifications
Certified by Sonography Canada as a Canadian Registered Generalist Sonographer (CRGS)
Diagnostic Medical Sonography diploma
Knowledge, Skills & Abilities
Ability to work independently
Analytical skills
Basic computer skills
Communication skills
Interpersonal skills
Organizational skills
Other Information
The official job descriptions are found on the Provider Group website, http://www.working-for-health.ca/supportjobevaluation/
Additional Text:
Preference will be given to Dual Credential Sonographers.
After hour calls may be required.
112 hours of work in a 3 week rotation.
Shifts (days, evenings, nights) including actual hours, date of commencement and temporary end dates are for informational purpose only and may be subject to change.
The successful candidate must provide a satisfactory & valid Criminal Record Check including vulnerable sector query before an Offer of Employment
---
More Career Opportunities
Looking to hire?
Sonography Canada is dedicated to promoting and advancing the ultrasound profession by helping employers find qualified sonographers for their organizations.
---
Submit a Job Posting