What to Expect in an Ultrasound Exam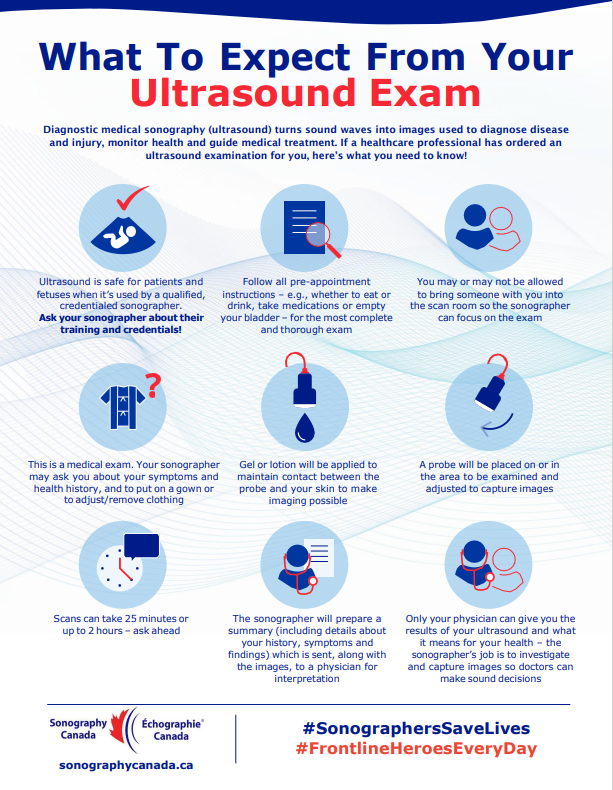 Would you like to post some information in your hospital or clinic?
Here's what you should know if your doctor refers you for an ultrasound examination.  First, ultrasound is considered to be safe when used by qualified, credentialed sonographer and properly monitored.   
What to Expect in an Ultrasound Exam
Before You Go:
You may be provided with information to prepare for your ultrasound exam. These instructions can be essential to having a complete and optimal test, so please follow them.
An ultrasound is a medical exam, and at the facility you will be asked to discuss your health information and may be asked to adjust/remove clothing or change into a gown.
During Your Ultrasound Exam:
You should expect that a sonographer will ask questions related to the scan that has been ordered by the doctor to get a better understanding of the situation.
The sonographer will then place ultrasound gel and the probe directly on the area in question and will begin to move the probe and adjust the machine to get the best view of the area under examination. Throughout the investigation, pictures of what the sonographer sees are taken to show the doctors.

Ultrasound exams take time; scan times vary depending on the exam and can range from around 25 minutes to more than an hour and a half.
What Happens Next?
The sonographer prepares a summary of what they saw and this, along with the pictures, are passed on to the doctor for the final report. The doctor who makes the report for an ultrasound exam relies on the sonographer's findings about the patient's history, symptoms, and investigation.
It is not the role of the sonographer to provide you with the results from your exam. Your doctor will give you the results, typically, at your next appointment.
What Else You Should Know:
Some of the most common ultrasound exams are of the abdomen, pelvis, uterus and fallopian tubes, thyroid, scrotum, breast, musculoskeletal structure, cardiac (the heart), arteries and veins. Since the quality of an exam is highly dependent on the training and skill of your sonographer, you can ask if they hold credentials.
A patient's support people may not be allowed into the scan room during your exam, depending on the site policy, to allow for the sonographer to fully focus on the exam. For obstetrical scans, after the technical portion of the exam is done, support people may be allowed into the room.
---