Mental Health Support and Resources for Sonographers
In 2018 and 2021, Sonography Canada conducted a mental health survey in collaboration with the Canadian Society of Medical Laboratory Science (CSMLS) and the Canadian Association of Medical Radiation Technologists (CAMRT). Collectively, we are one of the few health professional groups to have gathered and analyzed data pertaining to mental health both before and during the COVID-19 pandemic.
In 2018, the survey found that 59% of responding sonographers indicated that they often or always found their work to be stressful and 70% signaled a lack of access to stress management or stress reduction programs in their current workplace. When the survey was repeated in mid 2021, we saw some significant changes to the mental health status of sonographers. To learn more about the 2021 results view these documents: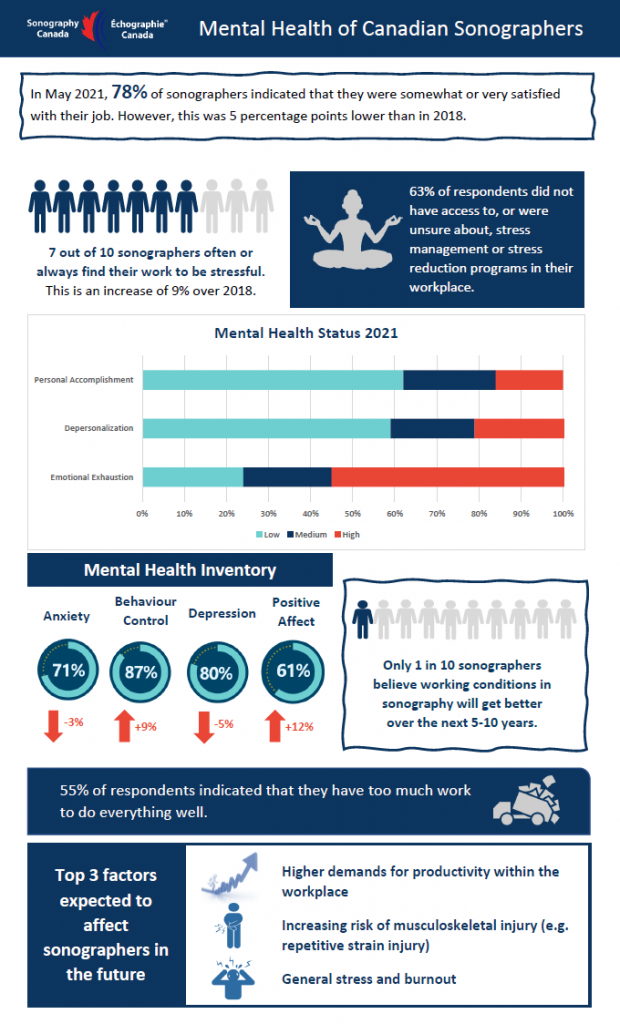 The resources below have been compiled to assist and support our members in finding the information they may need to foster mental wellness. Links to websites, videos and written documentation from a variety of organizations is available to use and to share.
Mental Health Toolkit – Canadian Society of Medical Laboratory Science (CSMLS) has created this toolkit which empowers people to take charge and create positive change. With separate paths for individuals, students, managers, employees, organizations and educators, sonographers are invited to help investigate their mental health.
Wellness Together Canada – Government of Canada
Mental Health and Wellness – Government of Canada
Mental Health – Canadian Mental Health Association
Mental Health Webinar Series – Inteleos (ARDMS)/APA
Bell Let's Talk Day 2021: Be There
---